Pacific Islands Families Study
The Pacific Islands Families (PIF) Study has been following a cohort of 1398 Pacific children, within their family environments, since they were born in the year 2000.
Extensive consultation within Pacific communities has contributed to the development of this multidisciplinary project and the inclusion of psychosocial and health concepts that are relevant to these communities. It is anticipated that this prospective, longitudinal study will generate important practical information on Pacific child and family health and psychosocial functioning over critical developmental stages.
PIF Study background and details
What is the Pacific Islands Families Study?
The Pacific Islands Families (PIF) Study is an ongoing longitudinal study tracking the health and development of a birth cohort of 1,398 Pacific children and their parents since the children were born at Middlemore Hospital in South Auckland in the year 2000. It is the only prospective study specifically of Pacific peoples in the world. The PIF Study is based within the AUT Pacific Health Research Centre and the AUT Public Health and Mental Health Research Institute at AUT.
Foundational Leadership of the Study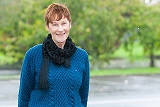 Professor Janis Paterson is the Foundation Director of the Pacific Islands Families Study. She earned her PhD from the University of Auckland in 1994 and has over 20 years of experience as a professional academic psychologist with research interests in both child and adolescent health and development. She is currently the Director of the AUT Public Health and Mental Health Research Institute.
Professor Janis Paterson's academic profile
What are the aims of the PIF Study?
The PIF Study's broad aims are to determine optimum pathways for Pacific children and families during critical developmental periods by identifying risk and resilience factors that influence positive and negative health outcomes; and to provide Pacific-specific evidence and make empirically-based strategic recommendations to improve the health and well-being of Pacific children and families and address the social disparities they face in New Zealand.
Who funds the PIF Study?
Grants were awarded from the Foundation for Research, Science and Technology (FRST) in 1998 and the Health Research Council of New Zealand (HRC) in 1999 to undertake a pilot study that enabled instruments, recruitment, and interview procedures to be tested and refined. The main study commenced in 2000 and has primarily been funded by FRST and the HRC. The PIF Study has also received funding from the Maurice & Phyllis Paykel Trust, Sport and Recreation New Zealand (SPARC; now Sport New Zealand), the Deafness Research Foundation, the Dental Research Foundation, ASB Charitable Trust, and the Ministry of Health. To date, the study has received approximately NZD$12.8 million in funding.
Health Research Council of New Zealand website
Ministry of Health website
What is the PIF Study's design and methodology?
The PIF Study primarily collects self-reported data through structured interviews with mothers, fathers, and children. Its design and methodology is mainly quantitative and observational, however some supplementary qualitative projects have been conducted. The Study adopts a life-course approach to understand developmental trends across the lifespan, with a focus on critical developmental periods.
For further information on the design, methodology, and procedures of the PIF Study:
Who participates in the PIF Study and when?
At the Study's inception, participants were recruited where at least one parent identified as a being of a Pacific ethnicity and was a New Zealand permanent resident. Assessments with children have been conducted at 6 weeks postpartum, and then at ages 1, 2, 4, 6, 9, 11, 14, and 17 years, with a subset seen at 18 years. Interviews with mothers have occurred at the same timepoints and interviews with fathers have taken place at 1, 2, 6, 11, 14, and 18 years. The children's teachers completed questionnaires at ages 6, 9, and 11 years. This is shown in the diagram below.

Who are New Zealand's Pacific peoples?
Pacific or Pasifika peoples are a culturally diverse group comprising 8% of New Zealand's population. New Zealand's most recent census in 2018 showed that the seven largest Pacific ethnic groups in New Zealand were Sāmoan (48%), Tongan (22%), Cook Islands Māori (21%), Niuean (8%), Fijian (5%), and Tokelauan (2%).
They are a relatively youthful population, with a median age of 23 years (41 for European) and a relatively small proportion over the age of 65.
Over time the Pacific population has changed from a mainly migrant group to a largely New Zealand-born population. At the 2018 census, two-thirds of the Sāmoan and Tongan populations and about 83% of the Cook Islands Māori and Niuean populations were born in New Zealand.
Pacific peoples are highly urbanised, with 97% living in urban areas and 64% residing in Auckland alone, particularly the South Auckland area.
Where does the PIF Study cohort live?
Since the PIF Study began in 2000, many families have moved out of the South Auckland area to other parts of New Zealand or overseas, particularly Australia. We have endeavoured to keep as many families participating in the study as possible, regardless of location of residence, by employing web-based surveys, telephone interviews, or by sending interviewers to Australia and other locations.
The PIF Study is being undertaken by a team of researchers under the leadership of Associate Professor El-Shadan Tautolo.
Associate Professor El-Shadan Tautolo is the Director of the Pacific Islands Families (PIF) Study. As Lead Research Investigator for the study, he is responsible for providing Pacific academic oversight, strategic thinking, and stakeholder engagement. As a senior Pacific academic in the Faculty of Health and Environmental Sciences, he is involved in collaborative work across the University, in advocating for the health and wellbeing of Pacific families and their communities. Dr Tautolo was born in NZ and is of Samoan and Cook Islands heritage.
Associate Professor El-Shadan Tautolo's academic profile
Investigators
Pacific and non-Pacific researchers share various responsibilities across the different layers of the study. This structure is optimal as it draws on research expertise and skills across disciplines and brings ethnically and culturally diverse perspectives to the study.
Key AUT staff that assume day-to-day management of various aspects of the study include:
Leon Iusitini: Project Manager
Hoy Neng Wong Soon: Researcher Officer
Amor Hirao: Administrator
Their roles include management of the study and academic participation in measurement issues, data collection, data handling, analysis, write-up, publication and dissemination.
Collaborators
Other personnel are also involved in specialist areas of interest and in a wider consulting and management group.
They include:
Pacific Peoples' Advisory Board
The Pacific Peoples' Advisory Board monitors the general direction of the study. The board is primarily set up to protect and enhance the study in order to maximise benefits to the Pacific communities.
Who does the interviewing and how do you ensure sensitivity to Pacific peoples issues?
Field staff who are employed during the interview phases are fluent in English as well as a Pacific language. A South Auckland office provides a base for the interviewers, a secure collection point for completed interviews and a location for frequent team meetings and briefings ensure that problems are quickly and sensitively dealt with by the Pacific team.
How are problems solved on a day-to-day basis?
All staff involved with the project are responsible to the Directors who have overall responsibility for the project. In addition a Management Group have responsibility for general decision-making and policy development to ensure optimum running of the study.
Can the participants be interviewed in their native language?
The interviews are individually administered by interviewers who are fluent in a Pacific language and every effort is made to interview participants in their specific Pacific language if requested.
Who provided ethical approval and consent?
Careful consideration was given to the ethical aspects of this longitudinal study with Pacific peoples.
Ethical approval for the PIF:FTY study was obtained from the Auckland
Branch of the National Ethics Committee, the Royal New Zealand Plunket Society and the South Auckland Health Clinical Board. Ethical approval for the PIF:TTS Study was granted by the National Ethics Committee. The Ethical approval for this phase, PIF: TA was granted by Northern Y Regional Ethics Committee. Mothers provide individual verbal and written consent for their and their children's participation. For this phase, the child signs a letter of assent in addition to mother's consent. Both participants are free to withdraw at any time.
Who keeps the data from the study?
The data from the study is coded and held anonymously in secure storage under the responsibility of the Co-Directors in accordance with the requirements of the New Zealand Privacy Act (1993) and the Health Information Privacy Code (1994). All reference to participants is by code number only. Identification information is stored on a separate file and computer from that containing the actual data. All interviews are confidential and only PIF Study staff authorised by the Co-Directors have access to computerised data. All information is treated as sensitive data. Provisions have been made for any participants who request that their data be disposed of at any time.
Where does the bulk of the research funding come from: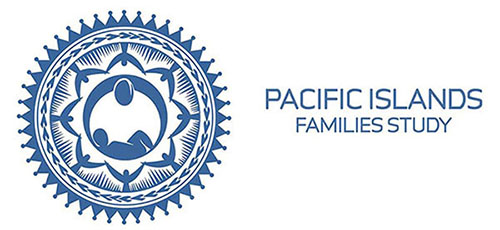 PIF Study publications
We have published more than 100 peer reviewed scientific papers in national and international journals during the course of the Pacific Islands Families Study.
Any questions?
If you would like to find out more about the Pacific Islands Families Study or have any comments to make, please get in touch.